International Shipping Information
Thank you for visiting our official online store
Unfortunately, international shipping is not available through our website.
To receive orders at your home, please use TENSO.COM that offers international forwarding service from Japanese online shops to the world.

"TensoCom" : http://www.tenso.com/

You would need to register with TENSO.COM first and make your account.
Then they will email you membership information which include your registration number and shipping information called "tenso address".
When you place an order at our online store, please entre your "tenso address" as shipping address.

Please kindly note that once items you ordered are delivered to TENSO.COM, they will prepare for international shipping then update you about delivery via email.
Before Checkout
Please make sure that everything in your shopping cart is OK. If you want to change the quantity, simply entre the number. You can also remove your order by clicking "remove order" button. If you would like to see further items, please click "continue shopping" then you can go back to shopping page.
To Proceed to checkout, please click the green button in the middle right of screen.


Membership Registration
Next, to make a purchase from our online store, you would need to sign up to become our member.
Please fill in the required information on this page.
Your membership information will be saved and it will be easier for you to shop at our online store for the future.

Please follow the instruction below to become a member of our online shop.

【1】Fill in your name and email address -inside the red frame ①.
First name and last name are required to be entred twice each.
【2】Copy and paste "tenso address " which TENSO.COM sent you as a shipping address -inside the red frame ②.
【3】Create and entre six digit password -inside the red frame ③.
【4】Please click the black button at the bottom to proceed to next step.

Checkout
For international orders, we accept only credit card payments.
Please click the third circle from the top "クレジットカード" and fill in following information;
カード番号 = Card Number
有効期限 = Expiration
カード名義人 = Name on the card
セキュリティーコード = Security Code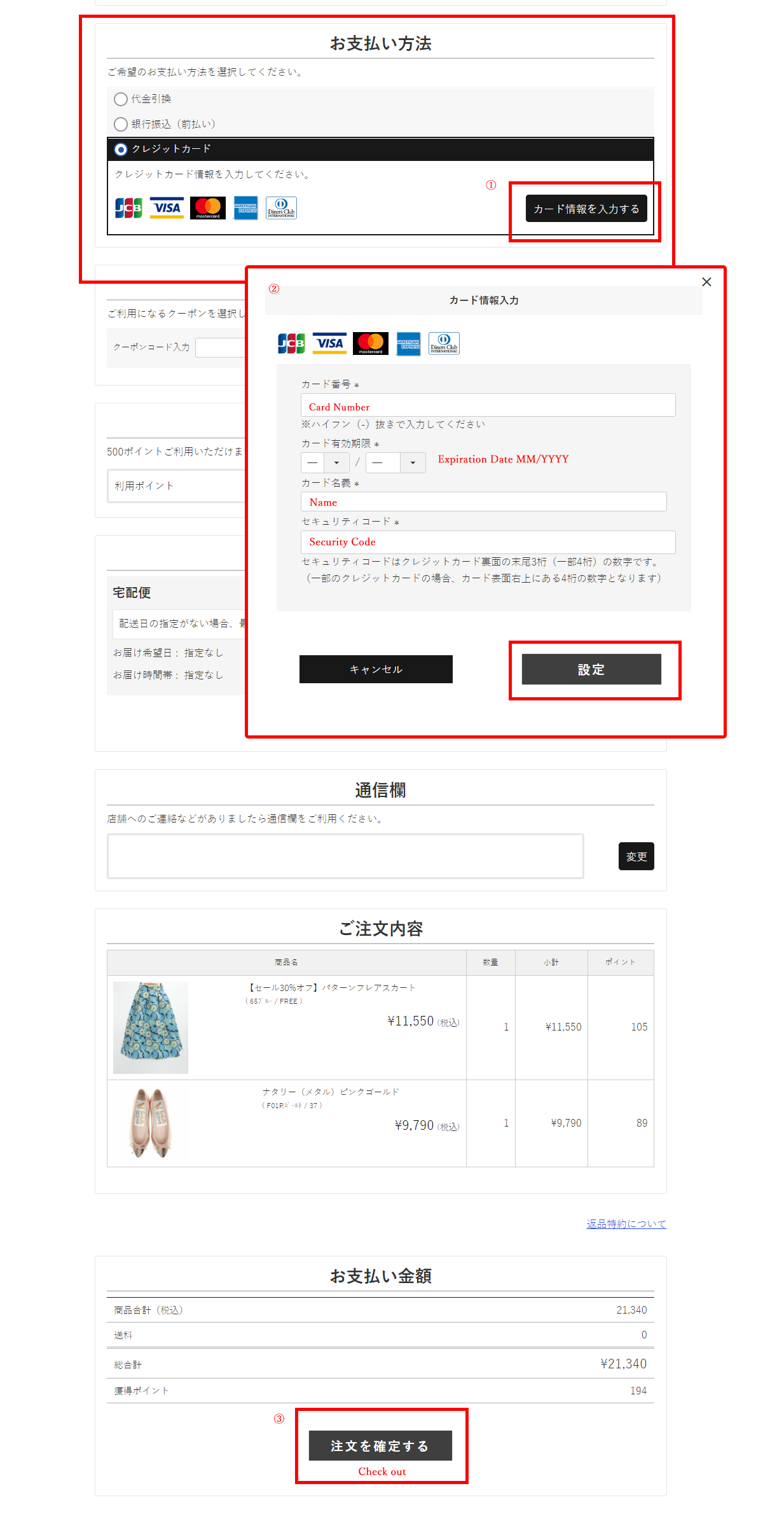 Confirm your order, total amount.
Please make sure that everything is correct and click the "Checkout" button at the bottom.

When your order is completed, following picture will be shown and you will receive an order confirmation by email.